Salam & hello, whether I'm late or not I just want to share that we have another online advertising network in Malaysia called AdsFactor. Based on their website AdsFactor was established since 2008 at Hong Kong. Then enter to Singapore, China, and lastly Malaysia market.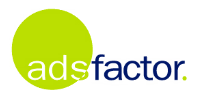 However I'm not sure about the earning performance, we need to ask any blogger who already joined and put AdsFactor ads in their blog to share the experience with us.
3 types of ads unit which available in flash, jpeg and gif format.
Super banner – 728 x 90
Large Rectangle – 300 x 250
Skyscraper 160 x 600
Oh the different between other online advertising network, they have AdsFactor.Tv which allows for the simple transition of TV advertisers to reach users online.
For more info check out AdsFactor website