Salam & hello to all my dearest reader, today i would like to share simple steps in order how to get connected to the internet without any registration and forms. The only things you need are fixed line telephone and internal/external modem. Ok lets find out how i write this blog entry from Parit Abas, Yong Peng.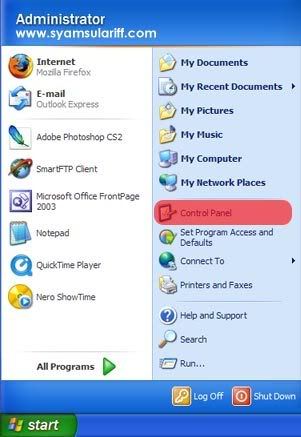 First of all you need to setup the internet connection. Click Start Menu > Control Panel > Network & Internet Connection

Then find "Create a new connection" at the sidebar and you will have this pop-up.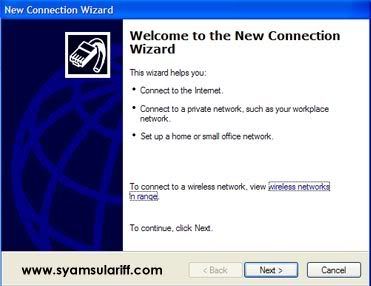 Follow the instruction and click Next
1. Select "Connect to the internet"
2. Then, select "Set up my connection manually"
3. Choose "Connect using a dial-up modem"
4. Put any name you want on it, i suggest "syamsulariff.com"

5. Put 1315 in Phone Number
6. Leave the username and password blank
7. Ok, click finish.
After that, make sure your phone line connected to the modem and make a call without any password/username. You will hear the tone and after that you are connected to the internet with average 40-48 kbps (kilobytes per second) speed. Enough for me to check my email and of course update blog for my beloved readers!
This service will cost you 4 cents per minute into your phone billing. Enjoy