Salam & hello to all my dearest reader, today I would like to share few steps in order to enable and disable directory browsing via your admin cpanel. It's very useful for those who does not want their hosted files visible to others. In term of security, it helps you to secure your current files regarding to which version of plug-in or theme that might be have bugs or hole. First of all you must have the admin cpanel access.
This is how the admin interface look like once you logged in. Scroll down and find Advance section.
Click to Index Manager as image shown.
In Index Manager, select which folder you want to enable or disable
Then click No Indexing and press the Save button.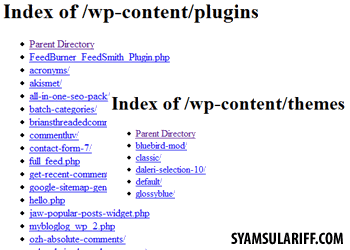 This is how when you disable the directory browsing. Are you feeling secured?
By summary this are those steps.
Log to Admin Cpanel > Advance Manager > Index Manager > Select Folder > Choose No Indexing > Save
I dedicated this entry to Sembang Komputer readers.