Salam & hello to all my dearest reader, my major sport is hockey but sometimes i play golf as my leisure sport because i think this sport will be useful in the future (in term of marketing politic maybe) Even though the basic technique is swinging i still fail to complete the course below the par. Haha
Tee-off - i hate this because im not good in driving. I like iron no 7 and putter.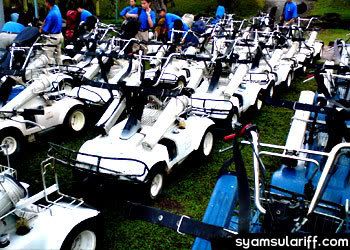 Turf mate – without this i bet you will not complete the course. The RMC golf course was build at the old mines.

Balance score card – oh it sucks! i need more practice.