Salam & hello to all my dearest reader, i would like to share some magic trick that i got from isuhangat blog. This blog can be categorize as must visit because the content are very unique and i wonder how the blog owner got all those things. Now im thinking about the large yahoogroup mailing list and metacafe. Ok lets try this simple magic trick.
Ok firstly you need to pick one card and keep in your memory (this instruction refer to the image above)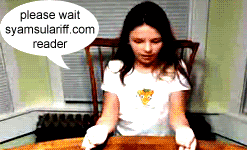 Ok give me a few second to read your mind.
Now i have removed your card!




What do you think?