Salam & hello to all my dearest reader, today i would like to share a few photos that i shot. Actually i already snap a lot of photos which i think that car got a nice plate number but i never share it with the public.
I dont know why but i do love with the numbers. I hope my future car will have a good plate number. I will spend around 1-2k for it.
Toyota Hilux of Jabatan Kebudayaan & Keseniang Negeri Pulau Pinang.
BMW X3 that owned by the entrepreneur of one saloon shop at Batu Pahat, Johor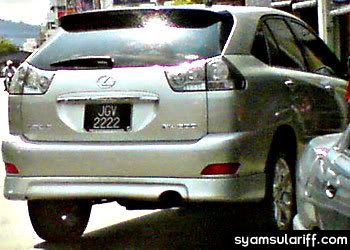 Lexus SUV parked in front of the tinted shop at Batu Pahat.
More pictures will be uploaded soon.