Salam & hello to all my dearest reader, as usual i will use nuffnang innit to check any cool content added by their user. Then i saw something new in it. Anyway before you further your reading, check out New nuffnang innit (update July 2010)
If you can surf to their index page, you will see new toolbar at the left which showing who is the current user. Yerp, im logged as vangardx.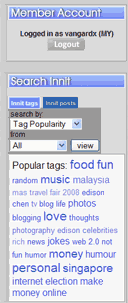 Another features that i really like is the tagging system, did you know tags play very important role for indexing? So the system divide by two which is innit tags and innit post. Beside that, you can narrow down your search criteria via selecting to search by tag popularity or by nangs.
If you want to search innit post, you can set your keyword to be filter only for description, title and listed by country (Malaysia, Singapore or both) So the searching process for your desired post will be more fun right? However i think this features still in testing and not final yet because its not work when i try to search something.

Looks, now you can click the tag link to find other post that related. Im a tag maniac, Boss Stewie how many tags i can put in a story submission ar?