Salam & hello to all my dearest reader, today i would like to share about what i've read just now. Its about organic traffic which wikipedia explained that Web traffic comes from unpaid listing at search engines or directories. Organic traffic can be generated or increased by including the web site in directories, search engines, guides and award sites.
Lets take a look some of my blog organic traffic screen shot for yesterday.
Anyone know other forum that not listed deserved for that title?
Even though im not providing the "real" video, i think i need to do something to secure the keyword with the informative article about my race, Malay/Melayu

Did you know i currently using the blue dream wordpress theme?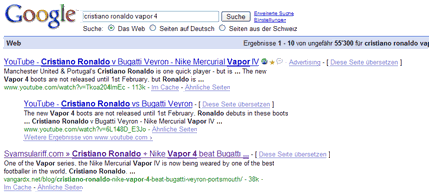 Nice camera trick from Nike CJ7 CR7 sprint test
Thanks for the add ya google!
Elements in predicting organic traffic such as Keyword Search Volume, Search Engine Market Share, Keyword Analysis and Competitors. -Ken Yarmosh
Algorithmic red meat consist of inherent trust in link metrics, domain trust over the importance of individual pages, temporal analysis of link growth, sandboxing of new websites, fixing blog comment spam, and Google's recent crackdown on reciprocal tactics. -Marty Weintrub
WordPress has "friendly URLs" features so its natural for setting up minisites with content rich keyword focused articles to attract traffic – Exact PPC
How about your organic traffic? Mind to share with me?