Salam & hello to all my dearest reader, before i go to the swimming pool i would like to share something about search engine optimization also known as SEO. According to seomoz, "SEO is the active practice of optimizing a web site by improving internal and external aspects in order to increase the traffic the site receives from search engines. Firms that practice SEO can vary; some have a highly specialized focus, while others take a more broad and general approach. Optimizing a web site for search engines can require looking at so many unique elements that many practitioners of SEO (SEOs) consider themselves to be in the broad field of website optimization (since so many of those elements intertwine)."
I dont know whether my blog were seo friendly or not but ranked no 2 from 76.1 million website is new to me.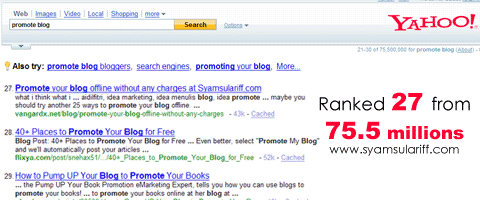 Some people said its hard to have a good rank from the popular keywords, my blog ranked number 27 from 75.5 millions website with promote blog keyword.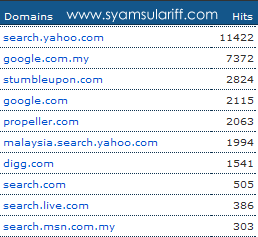 Beside that, according to the shortstat my blog got many hits from various search engine. What do you think? Want some tips from me? Ok pay RM50 first, haha just kidding. Hm in my opinion in other to get a good rank from the search engine firstly check your blog post title and write a fresh content. Thats all nothing more nothing less. Read what andybrain wrote, it worth to read.