Salam & hello to all my dearest reader, did you know that Nuffnang is not the 1st online advertising network in Malaysia? According to amanz, the first company was Innity but due to the strictness in selecting publisher and advertiser or maybe the expensive price quotation, affected to their publicity.
Its just my point of view, I think their targeted publisher only for professional company website and not focusing in local blogosphere market like Nuffnang, Advertlets, Grab My Ads, Go Kita and Netizens Media. Then he found that Innity manage the Digi and Celcom ads in Gua.com.my website.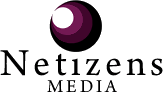 Netizens Media? Did you know this is our 5th local advertising network company? This Penang based company are launched with mission to help those blogger who
Very little startup fund (probably less than your monthly salary).
3 years experience (and frustration) as a webmaster/web publishers.
2 years experience (and frustration) as an advertisers, advertising agency and online marketing consultant.
Little fame and connections in the internet industry.
A burning desire to change.
Then Nabil Feisal, founder of Go Kita advertising network said in Hong Kiat blog that there were another company will launch soon and it will be the 6th. Did you know which company that he mentioned?