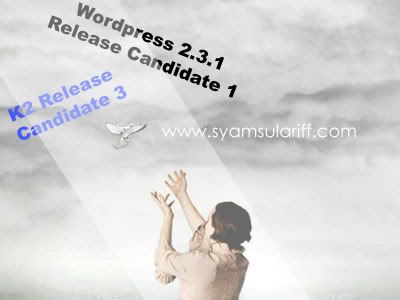 Salam & hello to all my dearest reader, have you upgrade your wordpress to latest version? The wordpress developer have released the WordPress 2.3.1 Release Candidate 1 that fixes over twenty bugs. Some of the notable fixes are:
  Tagging support for Windows Live Writer
  A login bug that affected those with a Blog Address different than their WordPress  Address is fixed
  Faster taxonomy database queries, especially tag intersection queries
  Link importer fixes
While Heilemann also post an entry about the release of the latest version of K2 which is K2 Release Candidate 3. He claimed that this release should cover your most immediate needs however still some bugs to take care of.
This blog currently use the latest version of wordpress and k2, try it now and dont forget to share your experience with us
Image credit to scarlet1313. Thanks