SPONSORED ARTICLE
The Hurtigruten Coastal Express, which is Norway's first coastal journey since 1893, guarantees guests a real taste of Norway
Hurtigruten is our TTG Sustainable Travel Heroes Expedition Partner
No one knows the Norwegian coast better than Hurtigruten. The Hurtigruten Coastal Express, a voyage along the Norwegian coast operated by the cruise line, will celebrate its 130th anniversary next year after showcasing fjords, mountains and islands since 1893.
Around this time, the Hurtigruten Coastal Express became very popular with locals and guests alike. Hurtigruten has perfected the art of reliably connecting and supporting coastal communities and ensuring travelers experience the original Norway, while protecting the natural environment.
Coastal cruises are ideal for guests interested in culture, history and wildlife, with opportunities to visit fascinating museums and heritage sites. There are numerous onboard programs including lectures, excursions and activities, all led by the line's popular coastal experts.
Typical Hurtigruten customers tend to be married and retired, however, the small and informal nature of the ships means the product also caters exceptionally well to solo travellers.
Highlight the line's Northern Lights Promise, which offers passengers free travel if they don't see natural light during their winter cruise, and the Book with Confidence policy, which offers peace of mind with free rebooking options.
FRESH FLAVORS
On Hurtigruten cruises, passengers won't just see the charming Norwegian coastline; they will taste it too. The line's focus on food is evident with its Norway's Coastal Kitchen initiative, which ensures that local gastronomic delights are enjoyed in onboard restaurants and cafes.
Torget is the main restaurant, serving breakfast, lunch and dinner, while the à la carte Kysten creates culinary masterpieces from the finest ingredients. Guests can head to Brygga for a bistro atmosphere and enjoy hot and cold drinks at the Explorer Bar, as well as freshly baked cakes and pastries from Multe.
Norway's Coastal Kitchen also offers a dedicated plant-based gourmet menu, with a different three-course meal each evening. It was created in collaboration with accredited nutritionists and Mari Hult, vegan chef and author of Norway's most popular vegan blog.
More than 80% of the ingredients used on board come from at least 50 Norwegian suppliers, connecting the line to local industry and agriculture, and promising guests melting in their mouths the award-winning cheese Vesteralen Arctic Char and ice cream from the Trondelag region and craft beers from Bergen.
There are seasonal delights available throughout the year, with succulent seafood, fresh shrimp and king crab taking center stage in the winter.
In the fall, suggest looking for juicy, tart cloudberries, which produce divine jam. Guests can also learn about regional specialties and discover how gastronomy is at the heart of local life through coastal experts and optional excursions.
CULINARY FLAIR
In March, Hurtigruten partnered with two award-winning chefs who live and work on the coast to launch its Culinary Ambassadors program.
Astrid Nasslander and Halvar Ellingsen work with Norwegian Coastal Kitchen chef Oistein Nilsen, designing new and unique seasonal dishes for the ship's restaurants. They use local and coastal ingredients to showcase the rich flavors of each of Norway's seasons and will nurture new talent through a dedicated chef training program.
Encourage your customers to discover the original spirit of Norway, with an enriching journey along the beautiful coast, filled with tantalizing experiences.
EXCURSIONS FOR GOURMET CUSTOMERS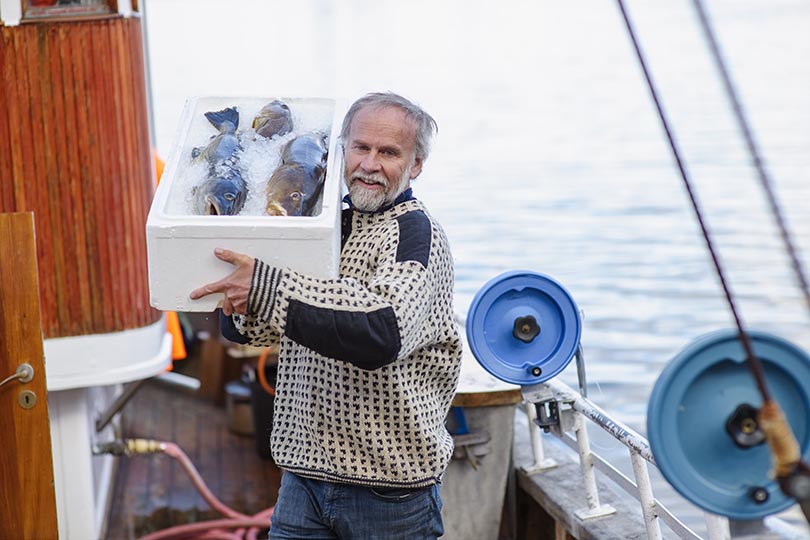 Suggest these Hurtigruten Coastal Express excursions, where guests can sample Norway's bountiful coastal pantry and learn about local produce:
A FARM TOUR IN LOFOTEN
Aalan Farm is a thriving eco-farm that provides award-winning cheese and tea for guests to enjoy on board. On this tour, guests sample cheeses, herbs, and other produce, chat with the Aland family, and meet the goats, miniature pigs, and cow.
A TRIP TO SEE SALMON
After admiring the pretty town of Bronnoysund by bus, guests visit the Norwegian Aquaculture Center in Toft to experience Norway's vibrant salmon fishing culture. They will meet and feed the salmon, learn about its life cycle and enjoy a tasting session.
A TASTE OF VESTERALEN
Guests can work up an appetite with a guided tour of Harstad, visit the historic center of Trondenes, then take a scenic drive through Hinnoya Island, joining a ferry at Gullesfjord. On board, they savor hot drinks and fresh pancakes while enjoying incredible views.
A KING CRAB EXPEDITION
Guests travel by RIB to join the fishermen of the Barents Sea, watch them catch huge king crabs and find out why Kirkenes is nicknamed "King Crab City". A chef then expertly prepares the giant shellfish for a sumptuous buffet in a rustic boathouse on the edge of the fjord.


next article

Learn about the different Sun Siyam Resorts and who they will appeal to